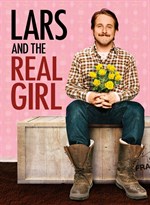 This is not going to be a blog post where I write about how attractive Ryan Gosling is; I think his good looks are pretty obvious.  Even my own husband commented on how handsome he looked in "Crazy, Stupid, Love." And he never comments on another man's looks.
"I've never seen him look so good," he said as we exited the theatre.
This is exactly my point.
Gosling could use his looks to his advantage in every film, but he doesn't. And I, for one, am thankful for it.
Gosling stars in four of my favorite movies: "The Notebook," "Lars and the Real Girl," "Blue Valentine," and his latest film, "Crazy, Stupid, Love." They are all very different. And that's what I like about actors like Ryan Gosling—that they are willing to take chances in the roles they select.
When my husband and I married years ago, we both read Nicholas Sparks's The Notebook. (Okay, I forced my then to-be husband to read it, as he reads only non-fiction as opposed to fiction). Nevertheless, I felt it was mandatory reading for anyone about to marry. Ryan Gosling stars in the film of the same name. It was a good choice for him and it accelerated his career. As the scruffy Noah, Gosling is exactly who I pictured after reading the book. He's a smart actor; it's not his looks we fall in love with in this touching, life-long romance, it's his character, and he plays it well.
In "Lars and The Real Girl," (click here to see trailer) a wonderful film that uses comedy and drama together to showcase an introverted man's struggle for love and the need for it, Gosling is superb. Lars's relationships are at the center of this film, and Gosling is not afraid to sink his teeth into his character's deep problems. I adore this movie and even required my Interpersonal Communication class to watch it and discuss Lars's issues and struggles with communication and love.
I previously wrote about "Blue Valentine," particularly its rawness and its authenticity. It makes us think about our own relationships. (To see this post, visit Marriage and The Blues). Gosling is brilliant as the sedentary, satisfied husband of a woman he adores who lets himself go, but his wife is dissatisfied with their union. Taking a chance with this type of darker, artsy film shows Gosling's range and what he's capable of achieving on screen.
And finally, in "Crazy, Stupid, Love.," (click here to see trailer) one of my favorite new little comedies, we get to see Gosling—the attractive, ripped Gosling—with a near perfect "photoshopped-looking" body starring in a comedy. In a recent interview about the film, he said this was his first crack at true, comedic acting. It worked. I laughed heartily throughout the movie and found it adorably entertaining. Gosling and Steve Carell gel and the result is a film that allows for both tender moments along with strong comedic ones.
So, thank you, Ryan Gosling, for showing us your scope and giving us stories and characters to love and/or make us wonder. I hope you continue to take risks with your film choices, because if you do, this movie-lover will be first in line to see them.